Takata Airbag Lawsuits
Defective Takata airbags have been linked to multiple deaths and over one hundred injuries. When deployed, the defective airbag may shoot metal fragments into the occupants of the vehicle causing serious injuries. Millions of vehicles in the United States have been recalled in order to replace the potentially defective airbags. If you or a loved one has been injured by a defective airbag, please call our firm.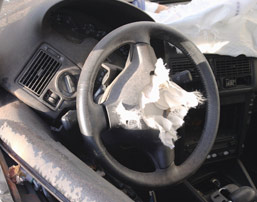 Injuries Caused by Defective Airbag Deployment
The defective airbags have faulty inflator and propellent devices which may deploy improperly after a collision. The defective devices will cause the airbag to explode and shoot metal fragments into the vehicle. These metal fragments cause severe upper body, facial, and neck lacerations. These injuries are much different than the cuts and bruises that may be sustained from a normal airbag deployment. In some instances, the lacerations have been severe enough to cause the victim to bleed to death.
If you or a loved one were in a car accident where the airbag exploded and suffered any of the following injuries, please call our firm:
Severe upper body, facial, and neck lacerations
Blindness from being struck by shrapnel
Death caused by being struck with shrapnel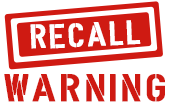 DID YOU OR A LOVED ONE SUFFER SERIOUS SIDE EFFECTS DUE TO A
Takata Airbag Explosion?
You May Be Entitled to Compensation. Call Now!
Car Manufacturer Recall List
Please click here for a complete list of all recalled vehicles that may have a potentially defective Takata airbag.
Takata Corporation
Takata Corporation is a Japanese company who manufactures and sells motor vehicle seat belts, airbags, steering wheels, interior trims, and child restraint systems. The company was established in 1933 as a textile manufacturer and after being inspired by the use of seat belts in American cars it began to manufacture and produce its own seat belts. Net profit for the company for its 2015 1Q was almost $25 million.
Takata Corporation News And Updates
Takata Sets Campaign to Alert Drivers to Airbag Recall

A recent article on autonews.com reported that Takata Corporation is planning on launching an extensive ad campaign to alert customers to the problems associated with their defective airbags. The campaign will also urge customers to get the defective airbag fixed. While millions of vehicles have ...

Read more
Eligible for a Takata airbag Lawsuit?
Kyros Law Group is dedicated to those who have been affected by a defective Takata airbag. If you or a loved one has suffered side effects due to a defective Takata airbag, then call us immediately at 1-800-884-6335. You will get a FREE & IMMEDIATE consult regarding your potential defective Takata airbag claim. You may be entitled to compensation, so do not delay. Your time to file a claim may be limited.